Do I need to cure my candles, melts or scent shots?
A. It's always a good idea to cure them. Usually a few days is fine. By the time they have reached their destination they have already been curing a few days so keep that in mind if you decide to cure them a little longer. Scented wax is like fine wine. Just like fine wine they do get better with age.

Q. What kind of wax do you use?
We blend our own wax for all products. We use a combination of parrafin and soy.
Q. What payment methods are accepted
A.We accept all forms of MasterCard & Visa debit & credit cards, as well as American Express, Discover, personal checks, money orders and Venmo. If paying by check please allow sufficient time for your check to clear before your order is processed. Orders paid by Money Orders will shipped when money order is received.
Q. When will I get my order?
A. We usually ship regular retail orders within 3-5 business days, beginning the day after you place your order. Because our candles are not made until you order, this allows time to make your candles. Business days are Monday through Friday. Shipping time can take 2 to 5 days, depending on the delivery area the package is going to. You will receive an email notification once your order ships. We keep our website updated with the current estimated turnaround time, and if your order will take longer than this, we'll let you know right away.
Q. Do you ship internationally?
A. We only ship to the United States & Canada at this time. Note:
Q. What do you charge for shipping?
A. We charge a Flat Rate of $9.95 for shipping. However, in all fairness, if the actual shipping costs exceed twice our Flat Rate charge, you will be invoiced for the difference. For example: Actual shipping is $21.50. You have already paid our Flat Rate of $8.95. You will then be invoiced for $12.55. This applies to all orders.
Please be sure you know if your shipping location is considered residential or commercial by FedEx. If you choose commercial but Fedex determines you are residential, they charge us the difference in shipping plus a $5.00 service fee, which will be charged to you. Please contact FedEx to find out if you are in a commercial or residential zone.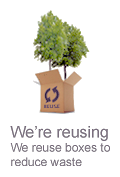 Q. Do you guarantee your products?
A. Your complete satisfaction is of the utmost importance to us. All of products are all hand poured, which makes each one unique. Many times a candle may look slightly different in color than the website photo or a previous order. However, if you are not completely satisfied with a purchase, return the (unused) product within 10 days of receipt for a full refund or exchange. We are not responsible for the return postage. Please contact us for a Return Authorization number prior to sending anything back. If the item has been damaged in shipping, please notify the carrier. If you are unable to notify the carrier please keep the item and all packaging and email us for further instructions.
Q. Do you make special orders?
A. If you want a basic color change, just note this in the message box of the shopping cart when you are checking out. If the color you need is unusual, please check with us first before placing your order. (For example, we cannot do gold or silver.) If you need to match a certain color, we do require a sample so we can be sure we're giving you the shade you're looking for! If you're looking for a special fragrance, drop us a line to let us know. We may have it already in stock (we have access to hundreds of fragrances that are not listed as standard scents on our website). If not, we can probably find it and order it for you. In that case, it may add a week or so to the order time since we'll need to wait for the fragrance oil to arrive from our supplier. We would also have to test the oil for compatibility.
Q. Do you offer Samples?
A. We do not offer samples of our candles but we do offer a sniffy samples of any of our scents. If you're interested in receiving a sniffy of any of our fragrances, (a cotton swab, dipped in fragrance, and sealed in a mini Ziploc baggie), please let us know via email with the fragrance you'd like to smell. As always, samples are included with each order you place of $10 or more (our choice of scents).
If you don't see the answer to your question here, please contact us by clicking here. We will try to get back to within the same business day.